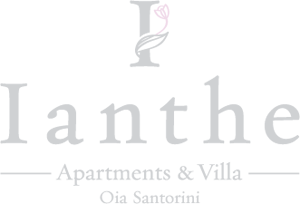 Get benefit from the magnificent views and tranquility from Ianthe apartments & villa for your holiday stay in Oia Santorini
Santorini Accommodation in Santorini Apartments Studios & Santorini Villa Holidays
Ianthe Apartments & Villa is the ideal choice for your Santorini Accommodation during your wonderful stay in Santorini, due to its unique location, its views and outstanding amenities.
It is located in the picturesque settlement of Oia in enchanting Santorini at a convenient spot providing you direct access to the most important sites of the island while offering you the peacefulness and privacy you desire during your holiday stay in Oia Santorini.
Ianthe Apartments & Villa offers you fully remodeled apartments & studios and a brand new luxury villa, whether it's for a romantic escape, a family vacation or a group of your beloved friends who would like a unique experience in the one-of-a-kind island of Santorini.